New Federal Rule Increases Payments for Homebuyers with Good Credit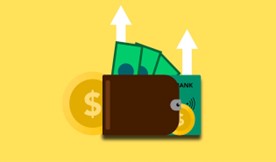 Higher mortgage rates and fees are now increased for homebuyers with good credit ratings thanks to a novel governmental rule to subsidize other potential homebuyers with lower credit scores.
As part of the Federal Housing Finance Agency's push toward affordable housing, the fees will affect mortgages secured in private banks across the United States.
Homebuyers with credit scores of 680 or more owe roughly $40 more per month based on a $400,000 home loan. Those with down payments of 15- to 20 percent will also see higher fees.
Lenders and real estate agents anticipate the new rule to complicate things for homebuyers with high credit scores and those seeking to refinance.
Ian Wright, a senior loan officer at Bay Equity Home Loans said, "The changes do not make sense. Penalizing borrowers with larger down payments and credit scores will not go over well. It overcomplicates things for consumers during a process that can already feel overwhelming with the amount of paperwork, jargon, etc. Confusing the borrower is never a good thing. It will cause customer-service issues for lenders and individual loan officers when a consumer won't understand why their interest rate and fees suddenly changed. I am all for the first-time buyer having a chance to get into the market, but it's clear these decisions aren't being made by folks that understand the entire mortgage process."
A series of Federal Reserve interest rate increases have forced the mortgage rate to over six percent, double where it was in 2022. To deflate inflation, which hit a four-decade high of nine percent in the summer of 2022, the Federal Reserve has swiftly raised rates.
Kenny Parcell, president of the National Association of Realtors, said, "In the wake of a three-percentage-point increase in mortgage rates, now is not the time to raise fees on homebuyers."
Homeowners with dodgier credit ratings and minimal down payments will qualify for better mortgages along with discounted fees.
The Federal Housing Finance Agency Director Sandra Thompson said, "The fee changes will increase pricing support for purchase borrowers limited ability by income or by wealth." She goes on to say that the changes are minimal, and the shift will guarantee market stability.
_____________________
EB Mortgage is a locally owned mortgage company with experts in new home purchase, refinancing, and commercial loans. Our wholesale rates can't be beaten. We offer more products, more options, and more solutions. Our "3C" Process is simple: complete our pre-approval request, consider options based on your requirements, and choose the offer that suits your needs best. Call us or e-mail us today!
Written by the digital marketing team at Creative Programs & Systems: https://www.cpsmi.com/